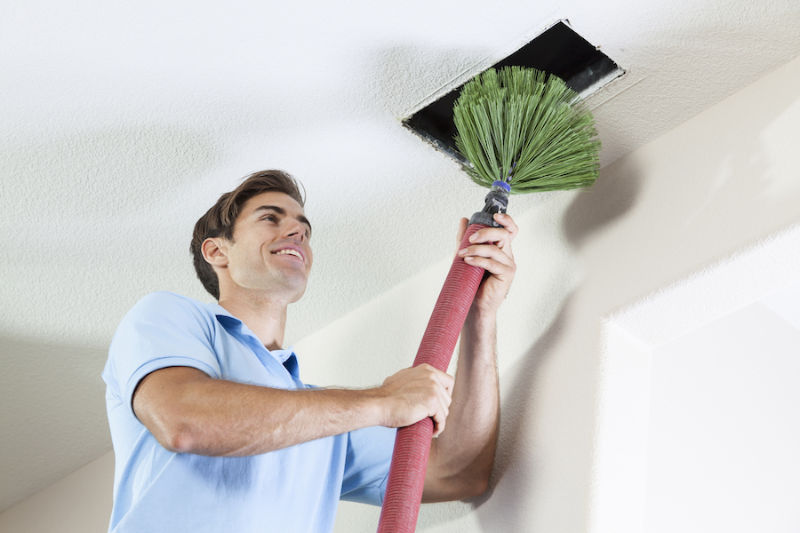 Have you ever had the air ducts in your Mukwonago home cleaned before? If the answer is no, you're missing out on several great benefits that routine cleanings provide.
Your heating, ventilation, and air conditioning (HVAC) system keeps you comfortable by distributing warm and cool air through your air ducts to different areas of your home. But if any dust, dirt, or debris begins accumulating inside your ductwork, you'll be breathing it all in.
Call our Midwest Heating & Cooling office today to schedule a free consultation. Duct cleaning benefits your health and adds more comfort inside your Wisconsin home.
Reasons for Duct Cleaning Service
Clean ductwork allows you to enjoy the following benefits:
Optimizes HVAC Efficiency
Having your air ducts thoroughly cleaned helps your HVAC system operate more efficiently. Our duct cleaning services reduce blockage and build-up so you can experience improved airflow and comfort.

Your system will use less energy to operate, helping you save money on your utility bills each month. Who wouldn't want to cut down on energy use and expenses?

For optimal HVAC performance, you can also insulate and seal your ductwork, which could help you improve efficiency by up to 20 percent, according to ENERGY STAR®.

Improves Indoor Air Quality
Duct cleanings help remove all types of particles, improving your indoor air quality (IAQ). You won't have to worry about airborne contaminants circulating throughout your home, compromising the air you breathe every day.

Reduces Number of Allergens and Pollutants
With clean ducts, you'll have fewer common allergens and pollutants infiltrating your home. Finally, you can experience some relief from allergy symptoms and breathe easier!

Promotes Comfortable Indoor Atmosphere
Duct cleanings can help you achieve maximum comfort inside your home. With cleaner indoor air, you can kick back and relax. Be sure to maintain a desirable atmosphere at home by scheduling routine duct cleaning services with our professionals. 
How Are Air Ducts Cleaned?
At Midwest Heating & Cooling, we provide exceptional services that are simply unparalleled. We surpass the workmanship and results of our competitors by offering top-notch, high-quality service every time.
When you schedule a duct cleaning service with our professionals, you can expect the following:
An air advice test with particle count will be performed before every duct cleaning.
We will use a truck-mounted vacuum with an incredibly powerful suction that exceeds the performance of other traditional and portable duct vacuums.
Our service is safe, and there will be no cross-contamination of dust, germs, or debris from homes previously cleaned with our equipment.
We follow an efficient procedure by combining vacuuming with the use of high-pressure air tools and spinning brushes to ensure a high-quality cleaning.
Our equipment and tools can reach and remove debris from your entire air duct framework.
Let Our Professionals Provide the Duct Cleaning Your Home Needs
Embrace cleaner indoor air and increase the efficiency of the HVAC system in your Mukwonago, WI, home—opt for a duct cleaning service with our Midwest Heating & Cooling professionals! We will help you enhance your indoor comfort and living experience. Reach out to our professionals today at 414-439-0827 or request service online.