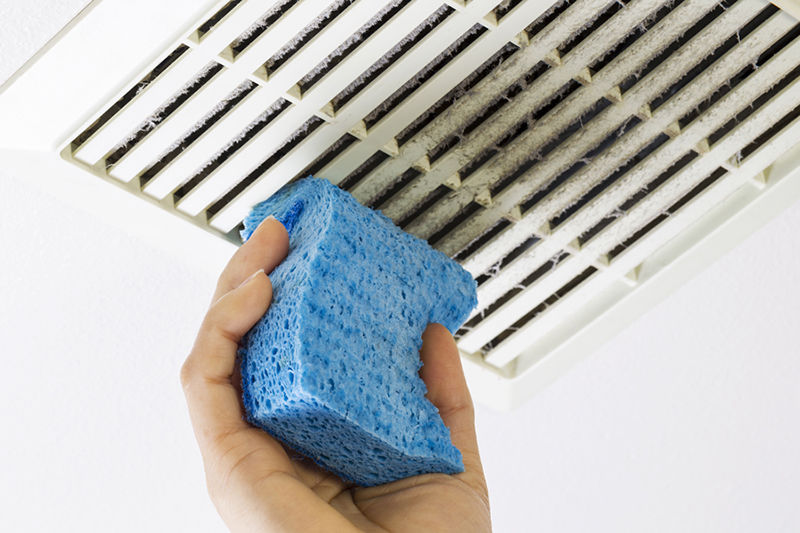 Your Wisconsin home looks spotless. You have dusted and vacuumed, soaped, and scrubbed. It looks great and smells clean—but may harbor an accumulation of dirt and debris.
You might easily overlook one of the dustiest areas of your home, hidden behind walls, ceilings, and floors. Your air ducts collect debris, dirt, and other particulate matter. Too much moisture makes them ideal environments for the growth of mold and mildew. Torn ductwork also can allow insects, even rodents, into your heating and cooling system's airways.
Dirty ductwork can contribute to poor indoor air quality (IAQ) in your Mukwonago home. Indoor air pollution can impact your health and restrict airflow to your heating, ventilation, and air conditioning (HVAC) system. Restricted airflow stresses your HVAC equipment and can lead to increased utility bills.
Air duct cleaning, like most HVAC maintenance, requires professional skills. With more than 20 years of experience in the HVAC industry, Midwest Heating & Cooling has the knowledge and skills it takes to restore your air ducts to top condition. We not only clean and sanitize air ducts but repair them as well.
What Can Get Into My Ducts?
If you or other household members have allergies or other respiratory problems, consider keeping close tabs on your air vent registers. Look for excess dust clinging to air vent registers or even insects crawling out of or near them.
Pet dander and smoke particles also can accumulate inside your ductwork. Pollution can find its way into your home through unsealed cracks and holes and eventually enter your HVAC system. You can bring allergens, such as pollen, into your home on your clothing and shoes.
Juniper and alder trees are active at this time of year in southeast Wisconsin, and as spring progresses, weeds and grasses will increase the pollen count. You can help keep pollen out of your indoor environment and your air ducts by leaving your shoes at the door and changing your clothing when coming inside from outdoors.
Sealing cracks in your home and your ductwork will help keep pollen out of your Mukwonago home. Duct cleaning will remove accumulated pollen and prevent it from circulating into your living space.
How Often Should I Clean My Ductwork?
At Midwest Heating & Cooling, our qualified professionals recommend cleaning ductwork every three to five years. The U.S. Environmental Protection Agency (EPA) says you should consider cleaning if mold, vermin infestation, or excessive dust is present. Debris may accumulate in air ducts and circulate into your living space.
The EPA stresses that the underlying causes of the mold, infestation and excessive dust should be corrected even if you opt for duct cleaning. Fixing those problems will ensure they do not reoccur.
Keeping dust under control in your Mukwonago home, changing the air filter every 60 to 90 days, and regular vacuuming can help keep particles out of your HVAC system and its air ducts.
However, if you have never cleaned your air ducts, there is a chance they contain an accumulation of debris. You can remove a vent cover and look inside. If you see a build-up of contaminants, it is time for a thorough cleaning.
Duct Cleaning Process
At Midwest Heating & Cooling, we know that not all duct cleanings are created equal. Our expert technicians remove debris from your ductwork with a strong vacuum that draws its power from a truck engine. Mounted inside the truck, the vacuum creates suction comparable to 100 vacuums working together.
The powerful suction enables the Midwest Heating & Cooling duct truck to remove more than 1,200 pounds of dust, if necessary, from the ductwork in your home. We also use brushes and high-pressure air hoses to whisk dust and dirt into our vacuum system, leaving no particles behind that would mess up your home. This extra step ensures your ducts get the best cleaning possible.
Optional deodorizers and disinfectants also are available for additional protection. All the sanitizers we apply are EPA approved and safe for use near persons and pets. We also will show you images of your air ducts before and after we clean. You will feel the difference in air quality and see it too.
Reduce Allergens In Your Ducts
Let Midwest Heating & Cooling clean the ductwork in your Mukwonago, WI, home before spring pollen season is in full swing. A thorough cleaning will improve your indoor air quality and your comfort. Call us at 414-704-0129 or request service online.